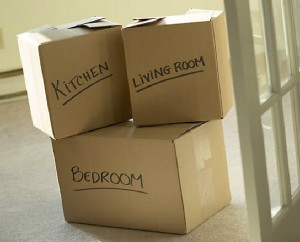 There were thirty-seven boxes in all. Stavros had counted them. His daughter's blocky handwriting covered the side of each one: BOOKS, PHOTOS, JEWELRY in fat, felt-tipped marker, like incomplete tic-tac-toes.
Four boxes marked ATTIC. He'd get to those later. This one said SUMMER CLOTHES. Summer clothes, winter clothes, clothes for every season, not to mention an entire box devoted to swimsuits and three to shoes. How does one teenage girl collect so much?
"Jeannie, get in here." No answer. He could hear her out there, pacing the kitchen as she yakked on that pissing cell phone. Why wouldn't she come help? If she wanted to move out so badly, she could damned well participate.
He'd told her to stack them in the garage, and warned against more than four to a pile. Yet here they were, stuffed into the hallway in leaning towers six and seven high. And why had she packed so early, for God's sake? They'd squeezed past them all week. For days now he'd listened to her shuffle boxes and tear away tape as she searched for some prematurely packed necessity.
Read the rest: http://linguisticerosion.blogspot.com/2013/03/the-third-stack.html