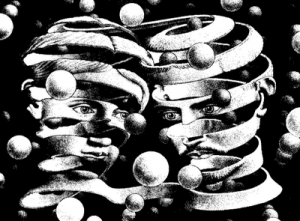 I pulled my eyes away from the Monet on her wall – the one with the infant clinging to his mother's bare breast – and stole a comparative glance at Brenda's smallish tits and her long firm legs, asking myself if she'd ever nursed anyone.
In response to her endless nagging, I explained to her about my day, how I'd sat waiting outside for her since before eight, not saying anything, not looking at anyone, pretending to read a magazine for the past hour and a half just so I could come in here and lay on her goddamned uncomfortable couch in her goddamned uncomfortable room and do nothing but complain, again.
She checked her watch and asked me how I felt about that, and as I wondered if she shaved under her arms, or anywhere else for that matter, I asked her how the fuck was I supposed to feel about that, to which she replied I don't know.
Her eyes told me I should stop looking at her as if she were a sex toy but I couldn't help it, and I knew she knew that but accepted me for what I am anyway.
She told me that before I saw her again, I should write down ten things my mother should have done differently, upon which she smiled and took my hand, led me to the receptionist, and gently told me that last week I forgot to pay.
I'll see you next Thursday, she said, and closed the door.
This won the Mind Games contest at Six Sentences. The book is available here http://www.amazon.com/6S-Mind-Games-Thomas-Knox/dp/1453709711 I don't get a cut.