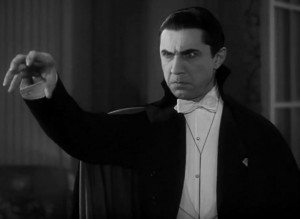 Vladimir loves vampires. Ever since the night spent huddled on the couch, peering from beneath a blanket while watching Blood of Dracula on his mother's little black and white television, he's been hooked.
He faked the flu during grade school to stay home and watch Dark Shadows. Barnabas Collins was the greatest. As a teen he cheered when the Night Stalker repeatedly bested the Chicago PD, and scoffed at the hapless reporter Kolchak. During the nineties he wore out multiple VHS copies of Salem's Lot and The Lost Boys; today he owns boxed Blu-Ray sets of The Vampire Diaries.
Bram Stoker, Anne Rice, Peter Tonkin — he's read them all. The walls of his house are covered with paintings and woodcut drawings of draugar, moroi, ramangi, and pijavicae. A Lestat shower curtain hangs in Vlad's bath, a Nosferatu statue lurks above the fireplace.
Vlad even keeps a wooden stake in his nightstand, but knows in his heart he can never bring himself to use it.
His father named him Vladimir, not in recognition of the most famous vampire of all, Vlad the Impaler, but for the pianist Vladimir Horowitz, whom his father had once seen at Carnegie Hall.
Read the rest: https://everydayfiction.com/fat-vlad-by-kip-hanson/