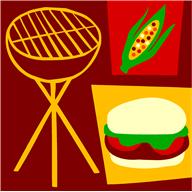 Three weeks ago, I bought a new barbeque grill. It's one of those big stainless steel jobs, with three burners, a flush-mount auxiliary burner, and 10,000 BTU. That was right before I burned off my facial hair. I'm not talking about a flash of heat and a quick curl of the eyelashes here. I leaned down to push the starter…click, click, click, and WHOOSH! It was like Ground Zero at the Trinity nuclear test site. My neighbor Jim laughed so hard he fell off the picnic table. What a jerk.
I've been learning to grill since I got married. I'd be happy eating casseroles and TV dinners, but Marie is in love with grilled meat.  Ribs, chicken, brisket—you name it. Once she even made me grill the Thanksgiving turkey. That was the year we had Chinese takeout, after I got her to agree the bird was beyond salvage.
Don't get me wrong. I don't mind cooking for her. But I'd rather do it indoors, where it's safe. Grilling is dangerous. Charcoal briquettes are chock full of toxic chemicals. Those long-handled cooking implements? You could put an eye out with the fork Marie bought for my birthday last year. And everyone knows that grilled meat causes cancer. I tell her these things and she rolls her eyes, then hands me a platter of raw cow meat.
"Get outside. I'm hungry."
Read the rest: http://www.clevermag.com/essays2/barbecue.htm