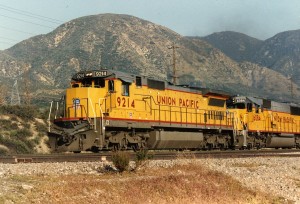 "C'mon, Johnny, run. Get up here, douchebag."
Johnny sprinted after the westbound Union Pacific, stumbling over the small rocks and blackened scree bordering the tracks. The engine was a distant rumble ahead, rising in pitch, and Johnny knew he would soon be left behind; worse, he would be prone to terrific ridicule from his twin brother later that night. He tripped and nearly fell, but with a final gasping effort reached out to catch his brother's hand. Charlie swung him up to the rail, clapping him on the back once his grip was secure. Together, they climbed to the top of the car.
Despite the heat of the Arizona sun overhead, the air blowing past was chill, and the boys sprawled out upon the roof of the container, glad for its metallic warmth and enjoying the delicious feel of the air streaming over their bodies. On the horizon, a monstrous serpent crept across the desert landscape – Interstate 10, stretching from Jacksonville, Florida to nearby LA. And there in the middle loomed the tunnel, a black, yawning hole bored through and under the long spine of desert rock on which the freeway ran.
Read the rest at A Twist of Noir http://a-twist-of-noir.blogspot.com/2012/05/interlude-stories-kip-hanson.html